August 2020 Newsletter
Sep 21st, 2020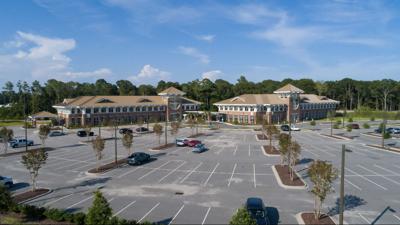 McLeod Health Has Announced its Intention to Build a New Hospital in Carolina Forest
Myrtle Beach, SC – August 18, 2020 – McLeod Health has announced its intention to build a new hospital in the Carolina Forest area of Horry County.
"We have filed a Certificate of Need with the State, as required, demonstrating the need for a hospital in this location," said Monica Vehige, Administrator, McLeod Health.
"Pending approval from the Department of Health and Environment Control, our plans are to build a 4-story hospital with up to 48-beds on our 42-acre Carolina Forest campus, where we already have 2 outpatient buildings," said Vehige. "The ongoing development of services at the McLeod Health Carolina Forest campus is intended to offer coordinated services across the healthcare continuum and to address the need for value-based services to ensure good health for the residents living in Carolina Forest and Myrtle Beach communities."
According to the U.S. Census, Horry County is one of the fastest growing counties in South Carolina and Carolina Forest is one of the fastest growing areas of the county. Federal and state statistics demonstrate the need for additional beds in this area.
In the 2020 South Carolina Health Plan developed by SC DHEC, Horry County needs an additional 155 hospital beds by 2024. The need for general hospital beds is determined through the consideration of current utilization and projected population growth with the goal of having beds available within approximately 30 minutes' travel time.[1]
"The current and projected population of Horry County, as well as the seasonal spikes we experience due to tourism is a major influence on the growing demand for healthcare services in our county," said Vehige. "Additionally, our current COVID-19 pandemic response demonstrated the insufficient hospital bed capacity in Horry County. Even without a pandemic, this shortage will become even more apparent as the population grows."
The addition of the hospital at this location will provide healthcare services needed by the local community and will be part of continued assessment of medical needs and recruitment of specialists and physicians to the area to serve patients and their families on the Coast.
"The planned $56 million hospital will have 4 operating suites and will be available for patients from our Carolina Forest Emergency Department that need continuing care," says Vehige. "Additionally, patients from this community, who have various illnesses or require surgery, will find care closer to their home. "
McLeod Health demonstrated the strength of its health system, staff and resources during the current pandemic, maintaining excellence of care for our COVID and non-COVID patients.  The new hospital will further bolster this regional strength for all our communities.
"This community's growth requires adequate hospital capacity to meet the growing demands for quality healthcare," said Rob Colones, CEO of McLeod Health. "Our mission is to improve the overall health and well-being of people living in the communities we serve."
The Carolina Forest campus is envisioned to offer a wide range of health services that will provide the emergent, primary, specialty and inpatient care that patients need.  McLeod Health will be the only healthcare system building a continuum of care, with specialty services at all three Horry County Hospitals – McLeod Seacoast, McLeod Loris and McLeod Carolina Forest campuses.
To stay up-to-date on everything happening in our area that pertains to our partners and Horry County, follow us on Facebook and Instagram. For more information about the Myrtle Beach Regional Economic Development Corporation, contact us at [email protected] or (843) 347-4604.
Company plans to be open for business at Conway site in September
A company producing, distributing and selling construction aggregates announced plans to open a site in Conway.
Vulcan Materials Company will make a $3 million investment and hire five employees over the next five years, according to a news release from the Myrtle Beach Regional Economic Development Corporation.
"Vulcan is very excited about investing in Horry County and the City of Conway on this project," Elliott Botzis, a vice president for South Carolina with the company, said.
"The distribution yard will be selling construction aggregates that are vital to Horry County's economic growth and vital infrastructure. The site is very well located to the local construction market."
Officials noted the company will use local railroad R.J. Corman to transport materials.
"We are thrilled to be working with a great company like Vulcan, providing another business with reliable and affordable freight transportation in Horry County," said Ed Quinn, R.J. Corman president and CEO.
Headquartered in Birmingham, Alabama, Vulcan is the largest producer of construction aggregates in the United States, the release said, primarily producing crushed gravel, sand, and stone. Their products, which include asphalt and ready-mixed concrete, form the building blocks for homes, roads and bridges.
To establish operations in Horry County, the company will locate off Yeager Ave with direct frontage along the railroad and plans to be open for business at the Conway site in September.
The location will mainly be used for storage and distribution of construction aggregates and materials being transported to the site from their Rockingham, North Carolina, quarry via rail.
"Vulcan will assist many of our existing companies to perform projects quicker and more cost-effective by being in a closer proximity to our industries and businesses," Horry County Council Chairman Johnny Gardner said.
The company currently serves 19 states, the District of Columbia and Mexico.
Conway Mayor Barbara Blain-Bellamy said Vulcan "will have a substantially greater impact on our economy and interdependent industrial community than the stats imply."
"Its presence improves access and allows cost savings in construction and infrastructure products," she said, "stretching local and state dollars."
HIGHLAND ROOFING COMPANY TEAMS WITH DUKE ENERGY TO PROVIDE REBATES TO BUSINESSES CHOOSING ENVIRONMENTALLY FRIENDLY ROOF APPLICATIONS
Highland Roofing Company has become an approved Duke Energy Smart $aver Alley which allows businesses to earn up to 60 cents per square foot in rebates from Duke Energy when Highland installs a qualifying cool roof and insulation product.
In addition to earning the rebate, according to studies by the Cool Roof Rating Council, businesses can save 10-30 percent on their typical cooling energy as installing a cool roof can lower the temperature of a roof up to 60 degrees during the summer. The cool roof reflects solar heat away from the roof's surface and prevents heat absorption into the building.
"We are pleased to be a part of the Smart $aver program as it not only provides rebates to our customers, but more importantly allows them a cost-effective way to save on their long-term energy costs," said Iain Fergusson, President and Owner of Highland Roofing Company. "Customers choosing to have any one of a number of cool roof and insulation applications installed not only save money, but it's another way businesses can be environmentally friendly."
Businesses can earn 10 cents per square foot in rebates for installing a cool roof with an initial solar reflectance greater than .70 which means the cool roof is reflecting 70% of the solar radiation. The cool roof must be listed in the Cool Roof Rating Council directory, applied by a licensed contractor and installed over air-conditioned space on a roof with a pitch of 2:12 or less.
Businesses can earn 50 cents per square foot in rebates for installing new insulation on existing buildings to meet or exceed the ASHRAE Standard 90 1-2010 R-value of 20. The rebate is not available in spaces where the existing insulation is already R-value of 20 or greater.
About Highland Roofing Company
Highland Roofing Company is a family-owned and operated business headquartered in Wilmington, NC with offices in Raleigh, NC and Myrtle Beach, SC. Highland is focused on providing quality roofing solutions for commercial and industrial customers throughout the Carolinas. The company prides itself on creative project design, quality applications and skilled industry professionals. Highland delivers quality work at a competitive price and is committed to completing the project as promised ensuring its clients recommend Highland to their friends and colleagues — which is the ultimate compliment. For more information visit highlandroofingcompany.com
AHLA Releases Updated Stay Safe Guidelines
The health and safety of guests and employees remain the top priority for the industry and in keeping with this commitment, the AHLA has provided an updated version of the AHLA Safe Stay Guidelines.
The updated Safe Stay Guidelines include the following:
Information on face coverings requirement in all indoor public spaces
An updated overview of events and meetings protocols
Member resource information on collateral available on the Safe Stay website
AHLA also encourages taking advantage of the COVID-19 Precautions for Hotels online course developed in partnership with the American Hotel & Lodging Institute (AHLEI) to properly train hotel staff on the enhanced safety and cleanliness guidelines.
Utilizing these best practices, including requiring face coverings and practicing social distancing in public spaces, will create an even safer environment for all our guests and employees. If you have not already done so, please show your support for this initiative and Endorse Safe Stay.
$8.2M Available for COVID-Impacted Operations
Low-Interest Loans for Businesses
$8.2 million is available for low-interest loans to assist businesses and agribusinesses impacted by the COVID-19 pandemic. Loans can range from $50,000 to $750,000 and are available in 29 South Carolina counties, including Horry and Georgetown counties. Funding for the SC Business Loan Fund (SCBLF) has been provided from the U.S. Economic Development Administration as part of the CARES Act. Loan proceeds may be used to acquire fixed assets, like buildings and furniture, fixtures, and equipment, as well as inventory, technology, personal protective equipment, and other working capital needs.
Click here for more information or to inquire about a possible loan, contact Rusty Gaskins, Waccamaw Regional Council of Governments, at [email protected].
MBREDC Partners that offer Cleaning and Disinfectant Services:
A&I Fire & Water Restoration
Carolina Cool
FSA – Full Steam Ahead
MBREDC Partners that offer PPE (Personal Protection Equipment)/Essential items:
Allegra Marketing – Basic Virus Signage
bFIVE40
Carolina Food Service
Cool Ideas Marketing
FastSigns
FSI Office
Integra Fabrics
Proforma Marketing
*An email was sent out on May 8th requesting MBREDC partners to reply back if they offered these services/products. If you would like to be included on our website list please email [email protected]
_____________________________________________________________
COVID-19 resources for businesses are constantly changing.
If you need more assistance with available resources please visit this up-to-date site at:
COVID-19 Resources
MBREDC's Fall Social
An Outdoor Event 
Thursday, October 8, 2020
5:00-7:00
Details to Follow
Partner News
The city of Myrtle Beach received nearly $10,000 to beautify portions of the city through the planting of trees.
According to information from the city, the money will be used to plant trees and shrubs around the Myrtle Beach Train Depot, as well as to replace trees along the downtown Arts and Innovation District.
The $9,475 grant was given as part of TD Bank's "Urban Greening Program, " which is aimed at improving local communities.
Since 2010, the program has helped plant more than 430,000 trees, and Myrtle Beach alone has gotten more than $75,000 for five different projects.
This year's work is expected to start in the fall.
Copyright © 2017 | Myrtle Beach Regional Economic Development Corporation
 All rights reserved.
Our mailing address is:
P.O. Box 261966
Conway, South Carolina 29526
(843) 347 – 4604

Want to change how you receive these emails?
You can update your preferences or unsubscribe from this list